Corsairs Women's Tennis Swept at Home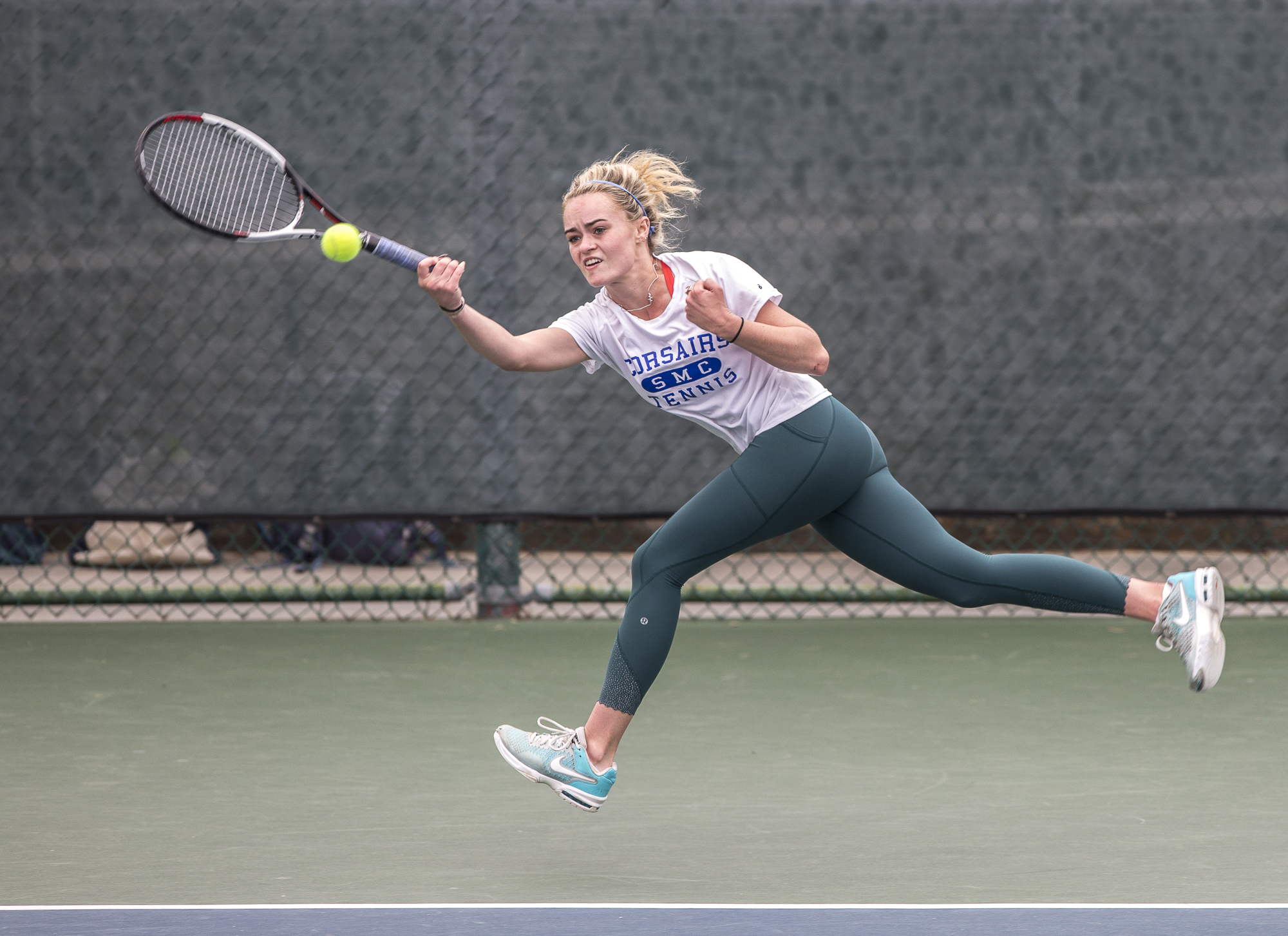 The Santa Monica Corsairs lost 9-0 against the Glendale Vaqueros this Tuesday, March 20. The light sprinkle of rain in the latter part of the afternoon didn't deter the doubles matches from proceeding, yet the overcast sky could make a person forget the beach was just a few yards away from the tennis courts at Ocean View Park.
With one player absent, meaning one loss already for both singles and doubles, the day started out with singles, with the standout match being between Abby Mullins and Miah Webb, both number one on their respective teams. Both sets were close, with no clear advantage throughout, ultimately ending with a 7-5, 7-5 loss for the Corsairs.
"I think I played okay, but I probably should have played better. I made a lot of mistakes, but so did [Webb]," Mullins said.
The other matches weren't that close. On court two, SMC athlete Mina Girit played against Srna Lepchevska, who used to play for the Corsairs at SMC last year before leaving for Glendale College. Once again, SMC lost, this time with a score of 6-0 each set.
"My opponent played well and put up a fight. It was just a good day for me, Lepchevska said. "I really enjoyed my time at SMC. It's a little bittersweet. I'm glad to be back at these courts, but I'm sad I'm playing against my previous team and my coach, Richard."
The other matches held similar stories with court three containing SMC's Amanda Golling playing against Hailey McNall, which gave another loss to SMC with a score of 6-0 and 6-1. Representing number four, Corsair Yurim Han lost with a 6-0 defeat for both sets against Sabrina Subero, another player who used to play for the Corsairs.
"It's weird to play against them. I have much more friends from here, but friends [at Glendale] now so it's better," Subero said.
Singles ended with SMC player Kiho Hirayama playing Ruth Kachatorian in court five who ended up with a loss of 6-1, 6-1.
Doubles started, with two matches concurrently, with court one consisting of Mullins and Girit playing Lepchevska and McNall and court two holding the Corsairs' Golling and Han against Subero and Webb.
SMC ultimately lost both doubles, with a loss of 8-3 in court one and 7-0 in court two. Giving the day's final count a loss of 9-0.
Though the day marked another loss for the Corsairs, giving them a 3-8 record for the season, head coach Richard Goldenson looked onwards.
"I thought they played really well, they showed a lot of improvement," Goldenson said. "It's been a great season, we've been steadily getting more solid at tennis."