Save the Earth, Go DIY - Interactive Learning Day at SMC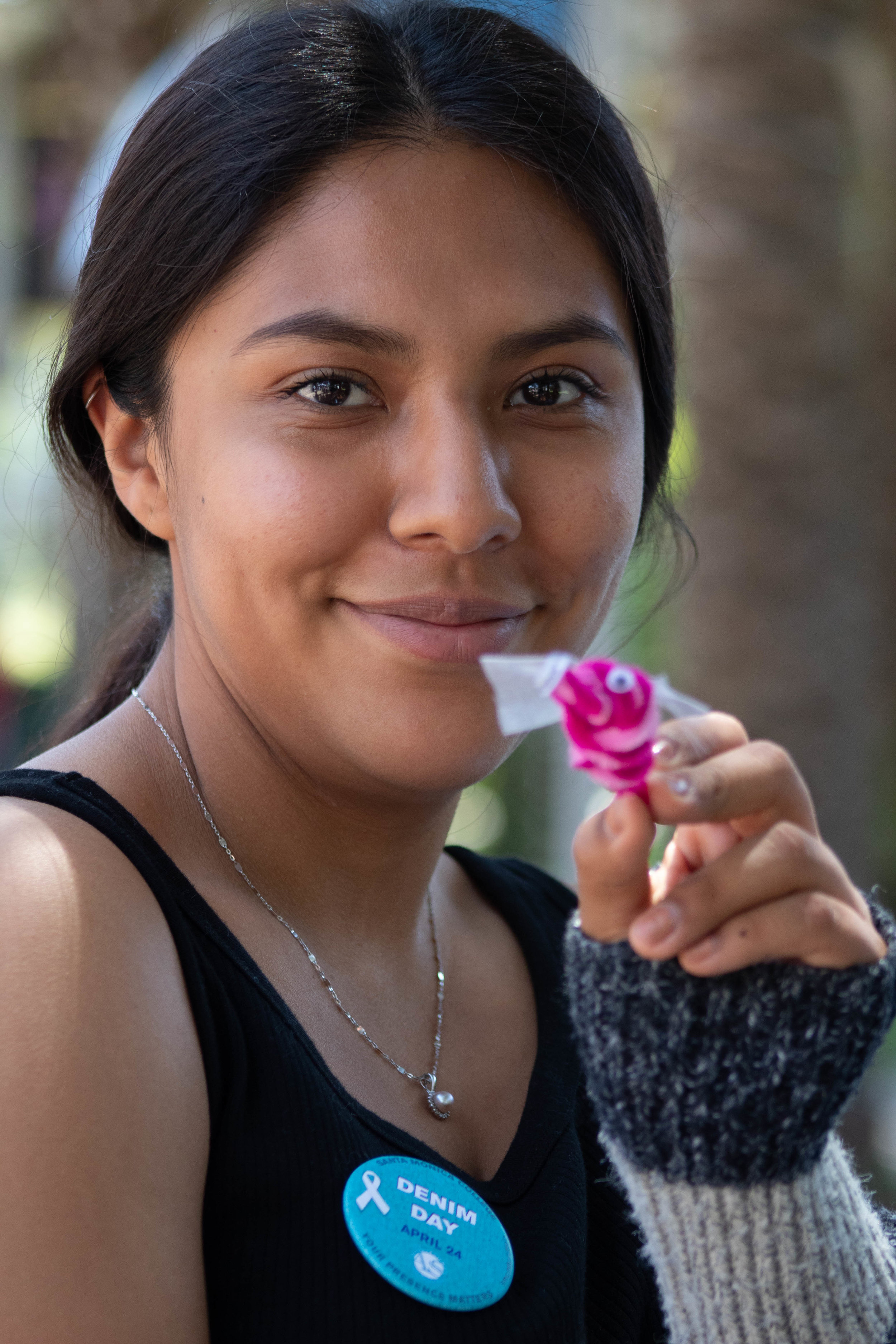 Two students, Brianna Lopez, an Illustration major and Katie Soriano, an Anthropology major at Santa Monica College (SMC), unknowingly find themselves walking into a free clothes swap to check out the layers of clothes hung on racks. The clothes were donated to Jasmine Warren, an Environmental Biology student at SMC for Earth Week Interactive Learning Day on Wednesday, April 24, 2019 in Santa Monica, California.
"So this is for Environmental Biology, Bio 9, taught by Raymer," says Warren. "Throughout the class you have a semester long project, and mine was to do the clothing swap to help raise awareness about the environmental impacts that shopping for clothing has. So, I added it to Earth week, and here we are. I have information about water pollution, how much water goes into the things that we make and biodegradability of the different fabrics. People are just coming and donating clothes and taking some."
Two other students, Gicela Gavis, a Psychology major and Dianne Martinez, a Nursing major, walked into the swap. "I think this is a really good idea for many reasons," says Gavis. "For sustainability purposes they are offering a lot of free things that are normally really expensive and sometimes it's really hard for people of color to achieve. This is not available at our local markets or local stores, and living here in Santa Monica there's a lot more options like that."
Across from the free trade-off, the Natural History Club provides arts and crafts projects for students to take part in. Romio Rezoana a member of the club says, "We're making little bees. This is actually a little bee box," she points to the box next to her. "This is just for arts and crafts, and over here we've got little ladybugs that are magnets you can make. This is our project we are working on. We actually want to set one up on campus and it's just to preserve the bees. You know, they are helpful for us, they pollinate our gardens."
Next to the Natural History Club are Patricia Azuci, an Industry Engineering student, and Agustin Garcia, an Environmental Science student who are volunteers during today's event. Garcia says, "We are doing a game that is teaching students how to sort their trash appropriately. There's hazardous material, there's landfill, there's recycling and there's composting. We give them items, and to place them in the appropriate bin there's no right or wrong answer. If they put it in the right bin, we tell them 'congratulations' and if they didn't, we tell them why they did it wrong and tell them exactly what bin they're going into. Everybody's a winner. The purpose is of teaching at the same time as a trivia-type of game. There's no wrong answer, we're just trying to teach you what the right way is."
Across from the Trash Sorting Game and next to the Free Clothes Swap, Eniko Molnar, a Fashion Design and Merchandising student shows others how to make DIY air freshener with reusable spray bottles. Using a reusable glass water, she pours in distilled water leaving enough space to drip in some essential oils.
Even the Corsair's very own former staff member, Jennifer Nystrom, participates as a volunteer for Plastic-Free SMC during the Earth Week celebration. The now Inter Council Club delegate informs students about the benefits of switching over to a vegan or vegetarian diet with laminated sheets of information laid out on a table. She says, "If you skip a burger every day, you save enough water to wash your car 15 times. That's just one." The water is also enough to be used for two and a half months to shower or bathe with. She continues, "So changing to a vegetarian and vegan options is very nice for the environment and our climate."
Carol Garcia, a Psychology student and Sustainability workshops volunteer informs students about alternatives to driving to get to campus. Her table filled with flyers and pamphlets that contain information about the Los Angeles Metro System.
The Earth Week celebration is hosted every year at the SMC main campus quad with a variety of events happening throughout the week. This year's Earth Week took place from Monday, April 22, through Wednesday, April 24.