Santa Monica Dolphins Come Up Short in Final Home Game of the Season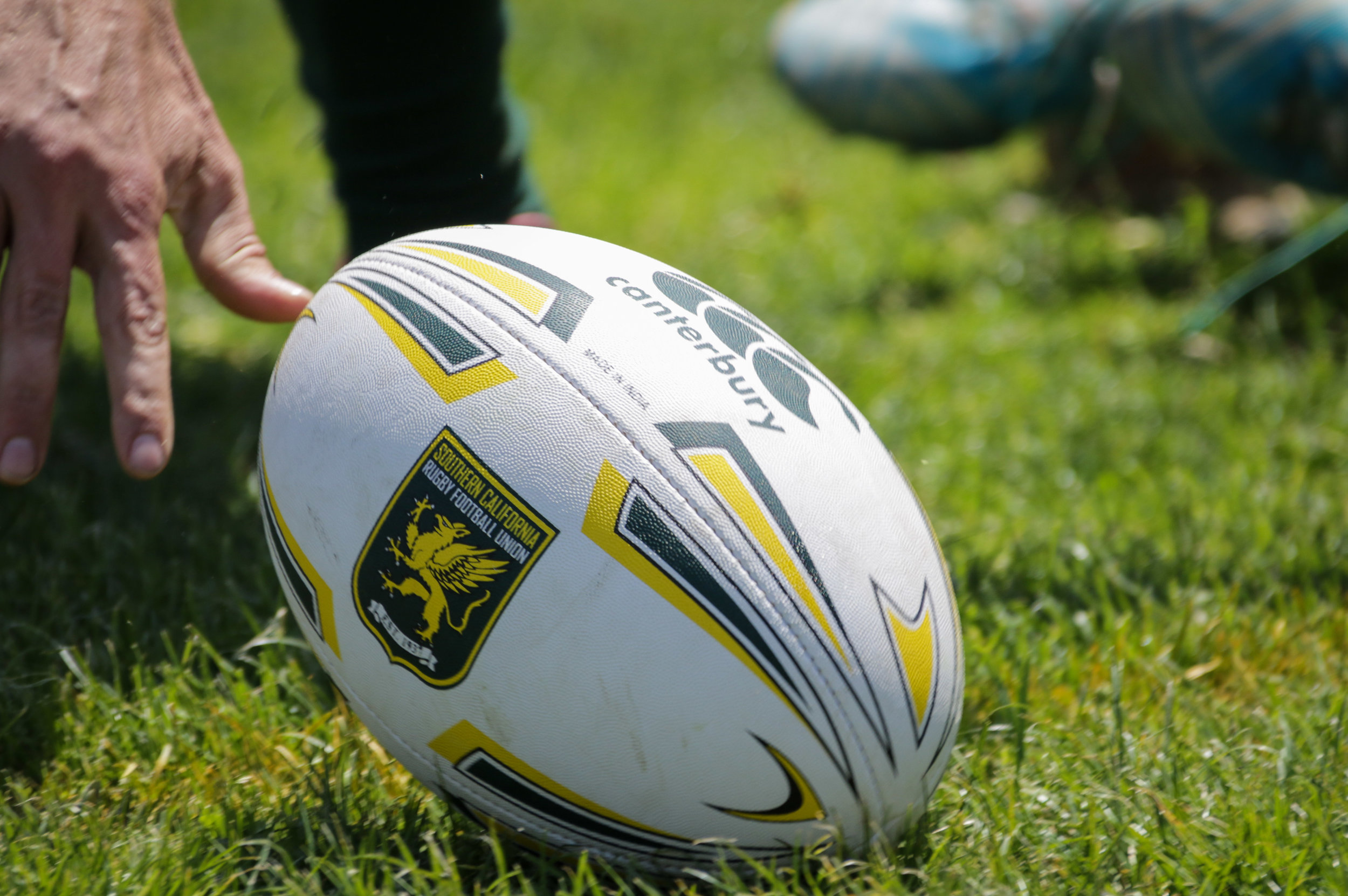 On a bright, sunny day in Southern California, the Santa Monica Rugby Club lost 24-7 to rivals Old Mission Beach Athletic Club (OMBAC) on home turf at Westchester High School last Saturday, April 28. This was the final home game of the season for the Dolphins, as they will gear up for their tournament next Saturday in San Diego.
The game started out with multiple opportunities for the Dolphins midway through the opening frame, only to get stalled by a ferocious wall set up by OMBAC. The second opportunity was highlighted by a huge 42 gain by Joseph Krassenstein, one of the backs and director of communications for the Dolphins.
The first half had both sides show great defense until OMBAC struck first on a try from three yards out on an ensuing pile. OMBAC continued by scoring from 30 yards out followed by a kick that gave them a 12-0 lead by halftime.
The Dolphins, after numerous opportunities at the goal line, finally scored a try from sophomore back, Victor Woo, followed by a kick to cut the deficit to five to begin the second half 12-7.
The Dolphins began to build momentum with stellar defense, driving into the opposition's goal line. However, much like the first half, they were stopped by the defensive wall of OMBAC. Tempers flared, causing a scrum between the two teams.
After 25 minutes, OMBAC scored a controversial try after what appeared to be a knock-on at the goal line. However, no call was made, and OMBAC scored on a hurried kick to make it 19-7.
Despite efforts to clamber back on top, the Dolphins were continually stalled by effective defense from the opposition. OMBAC nailed a dagger in the final 90 minutes to end the game with a 24-7 defeat for Santa Monica.
Despite some missed opportunities, some Dolphins said they were happy with their performance. "It's upsetting I couldn't get it over, but at the end of the day, I'm happy I was able to make those yards," Krassenstein said. "I was happy with the way I played, I was happy with the performance all the boys put in, had each other's backs, you know we're gonna walk away from this with smiles on our faces and our heads held high, still very positive."
"We do the first phases well, it's just when it comes down to critical points we weren't able to capitalize, weren't able to do anything, so it's something to work on and it's more individual stuff sometimes as well," said forward Conor Clancy, who was named the Man of the Match. "It's kind of been that way all through the season - we've been getting better and better as the games have gone on, but they've been capitalizing on our mistakes, and that's rugby for you."
Team Captain, Rob Cleere, reflected on his goals for next season. "I love to try and to keep as many of my teammates around and start early next season so that we gel earlier and get through our patterns earlier," he said. "The hard thing is due to the nature of where we live, people move on. So it's hard to keep a good continuity... I'd like to see if we could try to keep a core group of guys around for next year so that don't have as many fresh faces."
The Dolphins will participate in a five-team tournament next Saturday on May 5 in San Diego. As a result of losing three of the last four games, the club has fallen to fifth place in the standings and will take on the sixth place Olympic Club, whom they have played twice this year, with the series even at 1-1.
When asked about the growing recognition of rugby in the U.S., and in Santa Monica in particular, Krassenstein said, "Rugby is a beautiful sport. It builds upon the comradery and the teamwork and you see how the boys come together...it's a sport that Americans have fallen in love with... I think that you are gonna see a lot more rugby, and the special thing is that everybody plays rugby - men, women, young and old."
Visit at www.santamonicarugby.com for more information and how to participate in the men's, women's and youth program.